Wye Valley Renovations & Refurbishments Making Property Dreams Reality for Tintern, Monmouthshire, South Wales

Description goes here.
Covid-19 Coping Statement
In light of the current emergency and following government recommendations, we are taking measures to protect our customers and the team. All estimates and building work can be performed without contact, provided we observe a few simple precautions.

Firstly, during a scheduled visit, we ask you to be available via phone and remain indoors or in a different part of the building. This helps eliminate any personal contact. Secondly if the situation absolutely requires a visit, we will practice social distancing, following the recommendations effective in all public places, and would ask you to do the same.

As buildings can deteriorate if essential maintenance and repairs are not carried out, we are trying to work as normally as possible to keep our customers' property in good order. With a little help we can achieve this without placing anyone at unnecessary risk of infection.

Whether you are extending or converting your home, carrying out a refurbishment, or building from scratch, our belief is that it is your home, so you should have it your way.

From the smallest of repair jobs to a complete new build of a housing development, local people have come to trust Wye Valley Renovation and Refurbishment to provide a first class service.
More than that, being a small local company, working with local people and materials, you will find that our approach is to listen to your aspirations for the finished job carefully. Only then can the job be completed in keeping with your wishes, the character of your building and the local surroundings. Call us on the number shown or click in the header of any page to tell us what you need for your perfect home.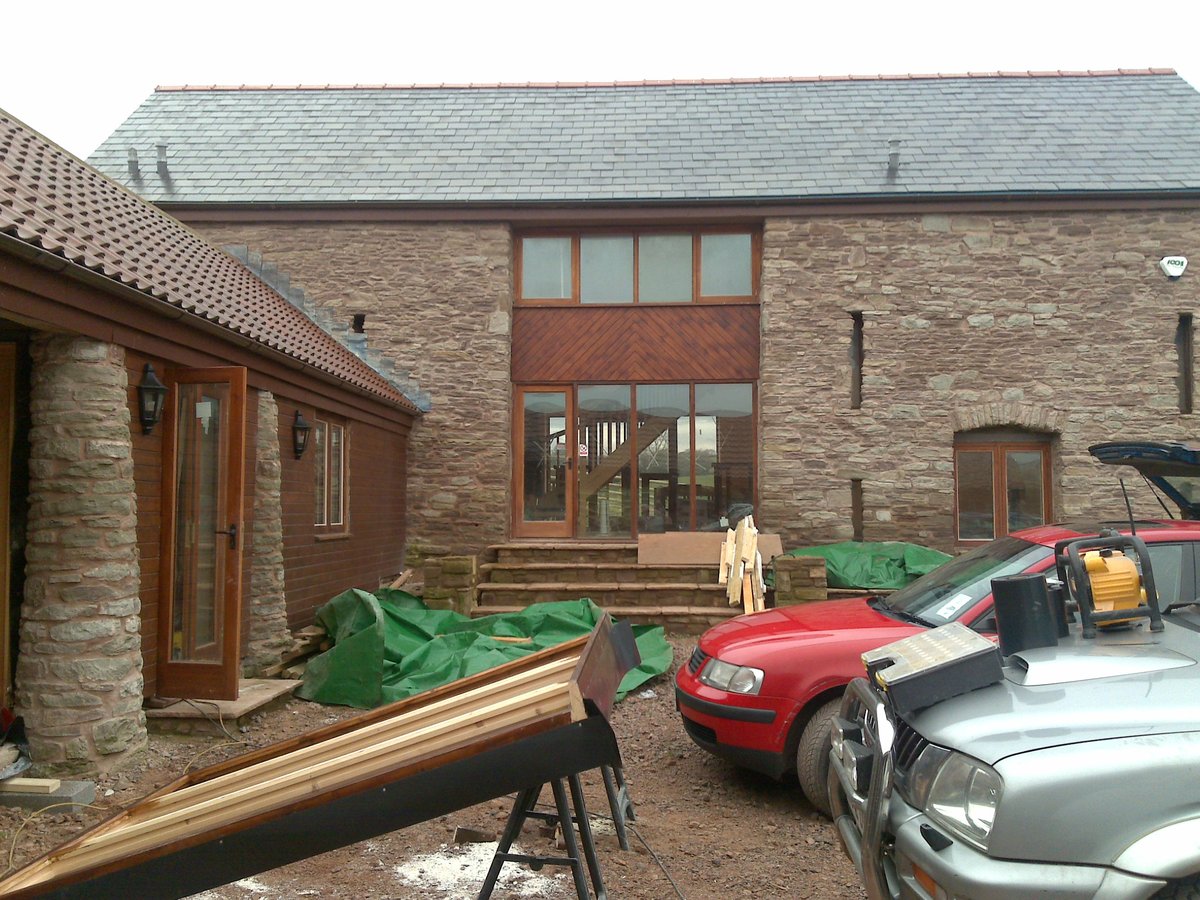 --Request Information-- --More Images Like This--Photo from Featured Project near Tintern
It never rains but when it pours!
Has this unseasonal weather been reminding you that your roof needs a little tlc? Even a tiny leak, left unattended, can cause disproportionate damage to your property.
Luckily, with the Wye Valley Renovation and Refurbishment team of roofers ready to act, your roof can be as good as new again in a very short time.
From a small repair of a few loose tiles to a complete new roof complete with timbers and joists, you can be sure that your job will be completed efficiently with the minimum of delay and mess, quickly restoring the water-tight nature that your home deserves.
For any problems with your flat roof, pitched roof, gable, gambrel or hip roof, call us or click in the header of any page to send an email and get a quick response.
Tintern is well known for these attractions: Site of Tintern Abbey still standing but wrecked in the Reformation. The village has a fascinating history in iron and steel works as well as having played its part in the Civil War. There is a brewery and a vineyard that both offer interesting and welcoming tours.
Tintern is also close to our base in Monmouthshire and in easy reach of our experienced team. Having worked on buildings of all ages in the area, you can be sure that your project will be carried out not only in accordance with your wishes, but also in keeping with the style of your building and the materials used in the local area.